We are deeply concerned about the increasing number of scams targeting pilgrims seeking Chardham Yatra Helicopter booking and Kedarnath hotel reservations. Fake websites have been created, luring unsuspecting pilgrims through Google search results. These fraudulent entities engage with customers via WhatsApp, promising the availability of helicopter tickets and hotel bookings.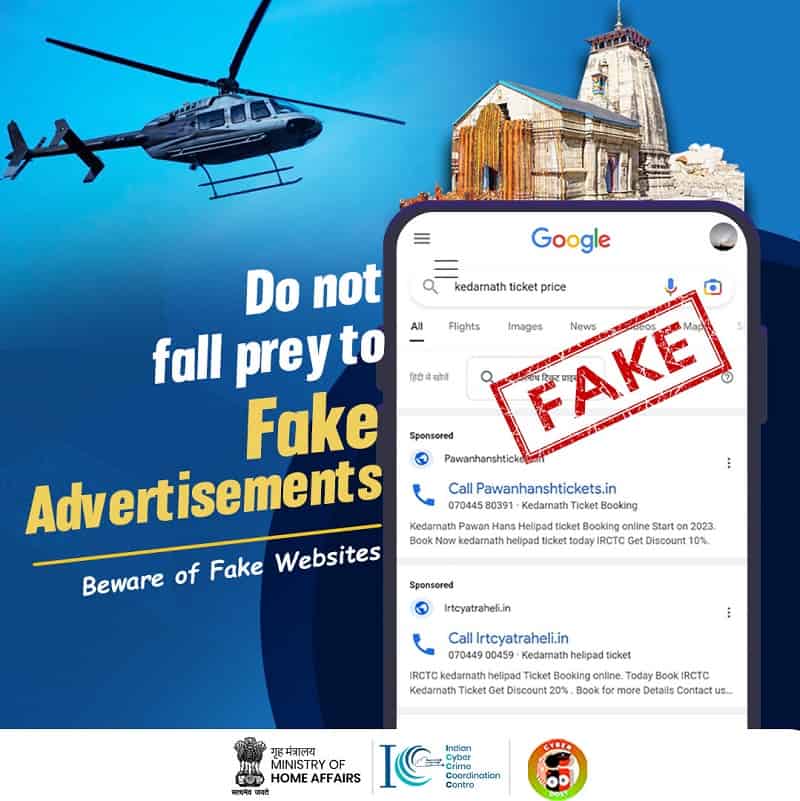 To deceive customers, they assure availability even during high-demand periods, exploiting the urgency and trust of the pilgrims. Once payment is made, the scammers provide fake tickets, hotel vouchers, or charter confirmations. The truth is revealed only when the pilgrims reach the helipad or hotel and realize the fraud. This not only disrupts their journey but also shatters their faith and trust.
Sadly, this menace extends beyond Kedarnath and Char Dham, permeating various cities across India. Scams are prevalent in Vaishno Devi helicopter bookings, temple donations, and hotel reservations in places like Ujjain and Puri. Scammers manipulate search results, making it difficult for customers to distinguish between genuine hotel contacts and fraudsters.
To protect pilgrims from falling victim to these scams, we are committed to providing timely information on new fraudulent tactics and maintaining the sanctity of Kedarnath and Char Dham. We will continuously update our platform with verified and reliable sources, ensuring your safety and preventing you from being cheated.
Please be cautious and avoid engaging with suspicious websites or individuals claiming to provide exclusive services. We urge you to rely on trusted sources and official websites for Chardham Yatra Helicopter bookings, Kedarnath hotel reservations, and other pilgrimage-related services. By staying informed and vigilant, we can collectively safeguard the sanctity of these holy places and preserve the spirit of our spiritual journeys.
How to Stay Safe
To protect yourself, we will periodically provide you with the links to their websites so that you can come here and check their websites. This way, you can ensure that you are not on any scammer's website. We will also continue to list all those websites here so that you can stay safe from scammers.
Fake Websites
https://www.helicopterticketbooking.in, https://radheheliservices.online, https://kedarnathticketbooking.co.in, https://heliyatrairtc.co.in, https://kedarnathtravel.in, https://instanthelibooking.in, https://kedarnathticketbooking.in, https://kedarnathheliticketbooking.in, https://helicopterticketbooking.co.in, https://indiavisittravels.in, https://tourpackage.info, https://heliticketbooking.online, http://vaisnoheliservice.com, https://helichardham.in, https://irtcyatraheli.in, https://helipadticket.in, https://www.aonehelicopters.site, https://vaishanotravel.com, http://vaishnotourist.com, https://kedarnathhelijounery.in, https://wavetravels.in, http://katraheliservice.com, https://takeuptrip.com, https://www.onlinehelicopterticketbooking.online
Fake Mobile Numbers
8910534898, 7449835880, 9875521979, 9996894999, 9996802099, 7292002437, 9475962382, 8981481604, 8981364825, 9279432617, 9144718678, 9668553346, 6353193767, 6295437040, 6290727303, 7872046183, 8101684922, 8981010441, 8276948662, 9084630322, 8653742439, 8910547209, 6372398610, 8961163537, 8981326032, 7600791758, 8653210601, 9046481738, 7601845128, 9007906249